A Double-Edge Sword: The Hidden Costs of Your CRM
Most companies are looking very closely at their increasing technology spend as nearly every aspect of business (and life) is becoming more expensive. The same companies are also very eager to increase their customer base and are looking for creative ways to increase sales. Both of these initiatives will, at some point, focus on your use and spending on Customer Resource Management (CRM) and Marketing Automation tools.
With the growth of Artificial Intelligence (AI) and easy access to big data, marketing automation is on the rise. It's almost a no-brainer for companies looking to increase their customer base or communicate to a large market. With the new volumes of leads now needing attention, CRM usage is similarly on the rise. These systems are a critical technology component for most businesses, but the costs of improper usage or neglect can trigger red flags when auditing technology expenditure.
Below are a few of the "Hidden Costs" of your CRM and marketing automation technologies:
Subscription Fees: So, maybe not really a "hidden" cost as it is a monthly, quarterly, or annual spend, but take close look at your user base. A few solutions such as HubSpot offer "unlimited" users, but these may come with other restrictions. Most CRM platforms charge per user, and as companies grow, users get added but rarely deleted. We have seen cases where a client of ours will have dozens of unused seats that they are paying for unwittingly.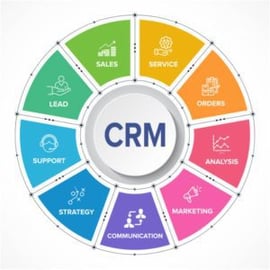 Integrations and Add-Ons: Technology is cool, and much like your Amazon Prime subscription, most companies will continue to pile add-ons and integrated tools into their CRM package. Every CRM offers different functionality in its core offering, which is why you should use a consulting firm to help evaluate solutions, particularly if you have significant CRM usage. When we find that functionality we want is not included in the core package, most CRM providers will have "partners", "eco-systems", "APIs", "AppExchange", etc. that can integrate and handle our needs. Hint: these are rarely free. Document management, geo/mapping, survey capability, internal/ external collaboration, online signatures, CPQ, email validation/ filtering, and the list goes on.
Marketing Automation may also be a needed integration. While HubSpot, ZOHO, and others will offer both, for more powerful marketing initiatives you may find the need for separate marketing systems such as Marketo, Pardot, or Constant Contact. Understand that these are separate subscriptions and are not included with your CRM subscription fees. Even with solutions such as Pardot/ Salesforce that are fully integrated, you will be paying for both.
Technology Support and Helpdesk: The more powerful systems we chose to use, the more complicated they become to support. This may include routine user management and support, reporting (hopefully some of this is automated), testing, integration with new or existing platforms, compliance management (i.e., CCPA, GDPR), data cleansing and upkeep, and adding new processes and functionality. If you purchased your software years ago, you might find you have many different folks helping navigate all these areas, and this support can get expensive. Third-party contracts for each bolt-on tool, redundant internal support for multiple departments, IT staff, etc., and costs can add up.
Data: "Data ain't cheap". That sounds like something Yogi Berra might have said if he were in the business world today. You have probably noticed that as you add prospects, leads, contacts, accounts, opportunities, humanoids, or whatever your CRM/Marketing platform calls "data", you pay more as these numbers increase. It's not only your iPhone that charges you for incremental data storage; Microsoft Dynamics CRM, Salesforce, HubSpot, SugarCRM, and almost any platform you choose will increase fees for incremental data storage.
"Data ain't cheap". Sounds like something Yogi Berra might have said if he were in the business world today.
Implementation and Training: If you are implementing a new solution, you may be able to set things up correctly to help avoid some (but not all) of the above costs. However, you will have to deal with implementation and integration costs, defining or revising your internal processes accordingly, and training users to correctly use the new system. These costs rise if you are replacing or integrating with legacy technology or moving from manual, spreadsheet-based sales management. Also re-consider trying to do this all yourself. Leaving training up to your users or even the internal sales management team, trying to figure out processes as you go, or missing key benefits that your new system offers can equal significant opportunity costs.
If you are struggling to find a new CRM or marketing solution, if you need an audit of your current application structure, or simply feel that something may not quite be right, we would welcome a conversation.